10 'mind=boom' reasons to visit Nepal Inked 2016
We all know, there are many reasons to visit a Tattoo Convention besides getting some ink: A place, filled with the sounds of buzzing machines, amazing art and creativity, but also, and foremost, meeting a big community, consisting of artists, clients and visitors. This might be common for every convention around the globe. Though, there are some that are really special for the legacy they have built around them. One such epic tattoo convention is the Nepal Inked Tattoo & Lifestyle Convention.
If you are not sure about your visit and need a little push, or if you even never heard of the event (UNBELIEVABLE!), read the following convincing/amazing/awesome/mind blowing reasons to come to Nepal Inked on the weekend of the 2nd, 3rd and 4th September.
So much passion. So much love. So much wow.
Nepal itself will blow your mind. The mountains, the temples and the people… The whole experience within the space is in many ways an eyeopener. De-dust your adventure-boots and go on a trek before or after the Convention. Suck some fresh air into your urban lungs and get to see something, that really deserves the term nature. And, please, let me fantasize for a moment about amazing Nepali food: Daal Bhat Power, 24 hour!
And, you can experience such level of madness:
Make buddies for life. At Nepal Inked, you will meet great tattoo artists with different styles and an individual handwriting, from different parts of the world. You will barely get again the chance to find the perfect fit for your tattoo within such a diverse range in this kind of loving and passionate environment.
Did you know, that tattooing plays an essential role in different local communities and their traditions in Nepal? You will experience a great mixture of these traditions and contemporary ways of tattooing and even have the opportunity, to explore the old ways on short trips, while you are staying in Nepal. So, can you please not only take your adventure-boots, but also some adventure-curiosity-spirit?
As if tattooing was not exciting enough and THE reason to come, Nepal Inked offers a wide range of music live on stage, stunt shows and art exhibitions. And man, RS Moto, where the event is happening, and the whole planned set-up will carry you right away into Nirvana. Wellness for your soul and nothing you experienced before… for sure!
(Not convinced yet? Some doozy about to come!)
Little Swastika… oh, Little Swastika! Only he is one reason to come, right?! He will show his art in a spatial exhibiton and offer a conference on Life, Rituals and Psychedelics. How excited are you now? Just a moment ago talked about Nirvana, remember?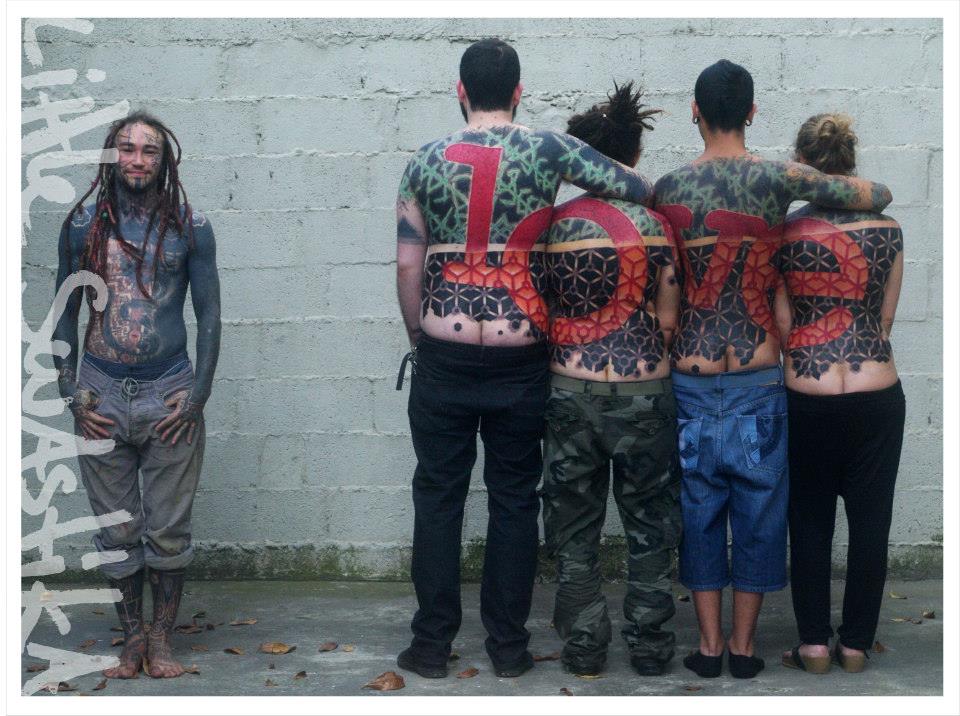 Good tattoos aren't cheap, and cheap tattoos aren't good. Not when you are at Nepal Inked.
Money should never be a reason to get a certain tattoo, but for some people it is essential… especially if you do not have it. At Nepal Inked, you will be able to get great pieces of art art for a very reasonable price. So no further bargaining, alright?!
Nepal offers a culture of spirituality. A tattoo and getting it means more to many people than simply some ink underneath the skin. Stuff like this can barely be explained, I guess, you have to breath it in yourself.
People from all over the world visit Nepal Inked. This results in a great exchange of different cultures and views, but also erases ideas of stereotypes and prejudices. In this craziness of our time, it will be a relief to rest your head for some moments on the shoulders of the community and exchange. One world, one family!
Being confronted with so many different impulses, you will gain great experiences and knowledge. I did not say without a reason, that Nepal and Nepal Inked will blow your mind. Maybe not blow your brain out (hopefully), but shift and focus your view and perspectives for sure.
The tattoo and body-modification scene is growing continuously in Nepal. With your visit, you can bring something to the table and support the rising community directly in their space.
Remember the massive earthquake more than a year ago? The scene is facing the devastation with gaining hope and the drive they need from working and sharing within the scene. It means a lot to people if you make the effort to come and exchange with them. If you love tattoos and art, show some solidarity and be a part!
Check out the details on:
www.nepalinked.com
or, www.facebook.com/Nepalinked