Dr. Fukushi Masaichi and Ilse Koch: Two twisted tales of obsession for tattooed human skins
They say tattoos are stories. Whether it's memories, music, peer pressure, or spirituality. What remains is obvious. The pain. That and the tattoo. So, what if you took it to another level wherein your life was tattooed on you? A way to expose yourself without actually 'exposing' yourself?
We all love tattoos, without a doubt. But is your love skin deep? Clearly, our bodies are a canvas. What if I say this canvas can live on after you die? Well, let's go back to the days of yore in the land of the rising sun. Known for its rich and also dark ancient history, its cultural delicacies, and its superb standard of life, Japan also has a darker claim to its fame. Here's a secret that's considered to be "underground." Are you ready to plunge into its depths?
It may sound like something straight from the FBI files or from the evidence found at some disturbed loner's quiet little farmhouse, but the Medical Pathology Museum at Tokyo University has an extensive collection of preserved human skins on display. Yup, you heard that right. Not just any simple skin, but tattooed skin. Most of which are large full body tattooed pieces donated after death. Talk about getting an excellent bang for the buck, tattoos can indeed last forever!
Dr. Fukushi Masaichi was an infamous pathologist interested in the art of Japanese tattooing since 1926, and was the man responsible for starting this stunning collection of stained skin, followed by his son.
Imagine a man so passionate about tattoos that he started to document them, and even remove the skin from the donated body to preserve them? He would also offer to pay money to help people finish their tattoo if they would allow him to skin their body upon their passing away and preserve their tattoos! Any Dr. Fukushis around? I would like to volunteer, please!
Today, his controversial collection has over 3,000 photographs of tattoos (heavily documented with notes) and 105 tattooed human skins (most of which are full body suits). Here's where it gets a little icky. Dr. Fukushi used two different methods of tattoo preservation; dry and wet. The body is delicately skinned and peeled off, then scraped off nerves and tissues, then is stretched out and pinned to dry. And here I am, not even hanging my laundry out to dry.
Anyways, even though this is an interesting topic for many, public exhibits of human skin are of course considered controversial. But body art that lives on forever? Priceless! The museum in Tokyo is not the only place to display tattooed skin post mortem and there is some speculation around exhibits like this about how the skins were acquired, some say possibly under suspicious circumstances. Duh! There is always the ethical element in question. However, there are real people out there who are actually willing to donate their tattooed flesh after they are gone, so their art will live on.
Today, Dr. Fukushi Masaichi and his son Fukushi Katsunari who carried on this taboo tattoo tradition are known in Japan as "Doctor Tattoos." Do you feel sick yet? Dr. Fukushi worked at the Mitsui Memorial Hospital, and since tattoos were common among poor or mentally disabled people, he encountered many tattooed people there and became interested in it. He was respected by many of Tokyo's top tattoo artists and was invited as an expert in tattoo contests in Japan and abroad. Part of his collection disappeared during a trip to America: one of the suitcases with tattooed skin was stolen in Chicago and it was never found, although he was offered a reward.
But then, tattooing in Japan is considered a highly-prized valuable art as it can make millions as a stretched canvas in an underground black market. According to my research, a Yakuza member would pay for someone to host artwork on their body, paying for the ink, and giving a little extra to the host. The host, for want of a better word, would continue with their life as usual, with the artwork on their skin increasing in value year after year. Could there really exist an underground black market for tattooed human skin? After endless amounts of time trawling through forums, websites, and academic papers, I found evidence that this was a tradition.
If you think he was crazy, check this bitch out, from the bloodstained days of the Holocaust. Ilse Koch acted as a guard over the concentration camp at Buchenwald, where she tortured, killed, mutilated, and constantly taunted inmates. She was flippant with her sadism, given the nickname 'The Bitch of Buchenwald', and her husband, the Commandant, was equally evil. Some of the atrocities Koch committed are enough to make even those with strong stomachs squirm.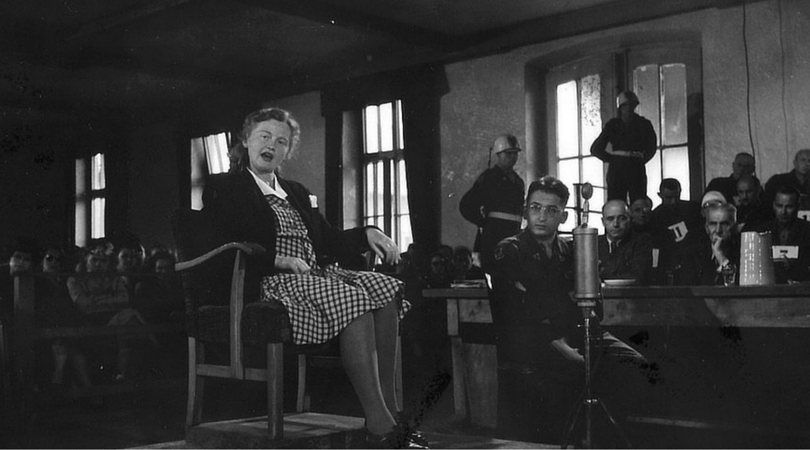 Before you trudge on, please bear in mind that some of what you read here is graphic and disturbing, so this is not for the faint of heart. However, what happened to prisoners at the hands of The Beast of Buchenwald was real and well-documented.
Ilse indulged in what was the act of seeking out tattooed prisoners. Some accounts say that she did this at the request of a doctor at the camp, to do research on correlations between tattoos and criminality, which he later wrote a dissertation on. Some say it was for her own satisfaction. Either way, she enjoyed it hardcore.
Koch would ride her (high) horse through the camp and whenever she saw a tattoo she liked on someone, she would have the prisoner captured (and not seduced, unfortunately). Talk about terrible tattoo tales? The prisoner was then stripped of his or her skin, which is preserved carefully before he or she is killed and incinerated. Isle kept several patches of skin as morose trophies in her home. These skin samples of her would be a key part of her later trials.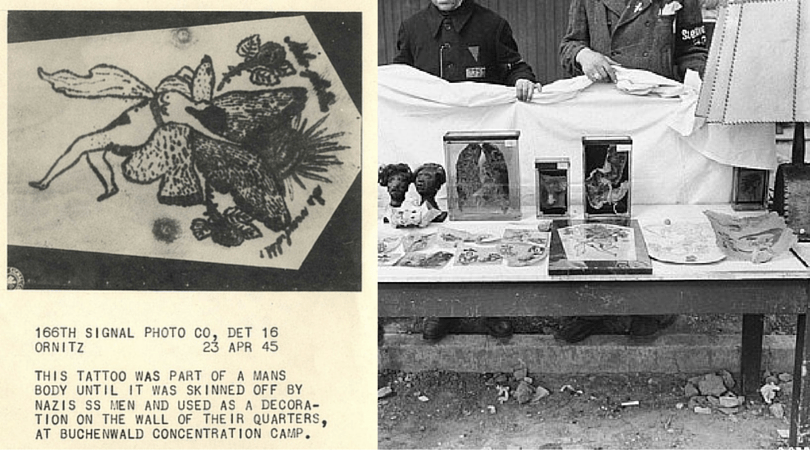 Ilse Koch is perhaps best known for her sadist desire for human skin and the horrifying arts and crafts projects she used it for. She had a hobby of collecting not only the skin but also things made from skin. After prisoners with tattoos were killed, the SS guards would tan their skin and then store it. They would later turn it over to Ilse who supposedly used it to make book covers, gloves, and lampshades for herself and the other officers. She even took to making shrunken heads and skulls for display in her house. In her personal collection of ornamental human skin items, Ilsa had one item she was supposedly most proud of: a lady's handbag. Ilse would happily carry the bag for officers and prisoners to see. Some accounts say it was made from tattooed skin.
Given what horrible people the Nazis were, it would make sense that anyone arrested for abuse of power by Nazis had to have been horrible people. In 1941, Ilse and her husband were investigated for cruelty and black market activities, including fraudulent use of money. Seeing as the Kochs had been doing both of those things, they were arrested in 1943 for embezzlement as well as cruelty. Dr. Hoven, Ilse's lover and assistant in collecting tattooed skin, was also arrested for mistreatment and murder.
Amazingly, Ilse was not convicted of her crimes at the SS trial. There weren't enough witnesses to convict her and all the physical evidence seemed to have vanished. This was likely done with the help of doctors at the camp. According to a Buchenwald Report, Koch ordered the execution of a hospital orderly and his assistant. They were killed so as not to reveal secrets. Allegedly Ilse also killed and incinerated prisoners who had witnessed the criminal things she had done.
She was found dead in 1967, at the age of 60, hung with her own bed sheets. Her death was ruled a suicide and she was buried in an unmarked, unattended grave at the prison cemetery.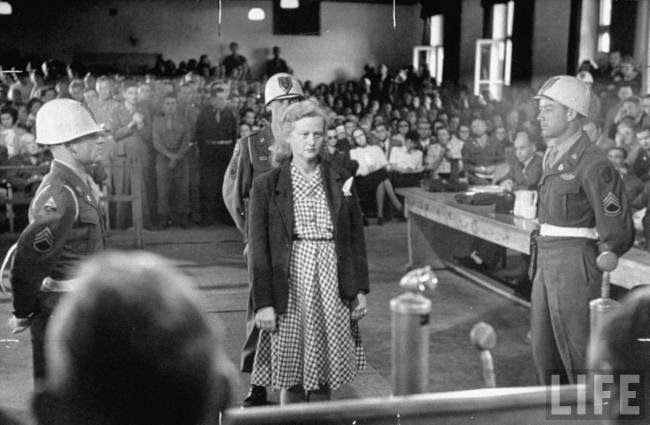 Tattooed skin is probably the pinnacle of tattoo art – perhaps all forms of art. Our present-day taste for tattooing actually represents a return to the primitive, a retreat from civilization: Instead of advancing away from the primitive, we are drawn back to our base nature. Human skin is itself fetishized, made into tactile objects of everyday use – the ultimate in taboo collectors' items, recalling the worst perversions of Nazi concentration camps, and pathology museums.
Of course, 19th and 20th-century tattood skin collectors were not exactly art connoisseurs, though some certainly took an interest in tattoo iconography. They were people who possessed the power and resources to collect tattooed skin from cadavers in prisons, hospitals, barracks and asylums due to their tainted love for tattoo art.
Our bodies were printed as blank pages to be filled with the ink of our hearts, however dark. And if you die, that's what they will find in you. Your stories inked into the surface of every cell.
So, would you rather write your story or would you want to ink it? Or make yourself the muse of your own life?
Picture perfect.
Down to the last detail.
The nitty-gritty.
The blood.
The pain.
The reason.