Serious Talk: Why you should get tattoos that make absolutely no sense at all
Tattooing is undoubtedly one of the most intricate artforms of traditional and modern culture. Beyond the universally known idea of tattoos being an illustrative concept created on our skin; the word holds additional meaning related to rhythm, further insinuating its relation to artistic expression.
The way in which people define art is expectedly subjective and varies greatly. In the most generalised sense, it is a manifestation of the artist's imagination, combined with the observer's interpretation – be it emotionally-driven or aesthetically directed. The realm of tattooing allows for an amalgamation of the creativity of its artists, and the ideas brought forward to them by tattoo collectors.
Unlike other artforms – or perhaps to a greater extent than other artforms – tattoos are often put under a microscope of scrutiny. As a music teacher, I rarely get asked why Mozart decided to change key or tempo in a perfectly sound concerto, or why Chopin didn't take into account that we only have ten fingers. But the moment I get some new ink, I am bombarded with questions with regards to its meaning. We're not entirely sure what was going through Picasso's or Salvador Dali's head when they created the masterpieces that they did; but what does your tattoo mean?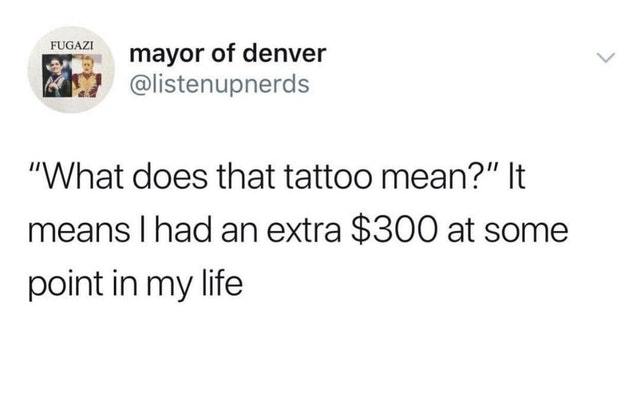 What makes us unique is our individualistic cognitive patterns or ways of thinking. You may be driven by your emotions – which itself subcategorises into a range of emotion-types. You may be moulded by your upbringing, your choice of literature, your exposure or lack of to several forms of media. You may thrive on knowledge, be consumed by logic, sometimes, unfortunately, ruled by conformity. Realistically you would be a combination of all these factors, some more prominent than others. You may be a combination of all and more of these factors, perhaps with no specificity to a prominent way of thinking or experiencing the world. When human beings are such diverse and complex creatures, it would seem illogical to generalise their response to any element of the world. Extending that notion, this applies to the world of tattooing.
I got my first set of tattoos, in what seems like a bygone youth. In my mind, I had no significant life events that were worth permanently displaying on my skin. Yet, the idea of having art on my body appealed to me, simply because it was aesthetically pleasing. As I drifted through a series of interesting life events, my perception of the world changed. My experiences multiplied, leading to a shift in my thoughts and consequently the kind of ink I wanted on my body. I became a mother at the age of twenty-two, and without trying to romanticise the experience of becoming a parent, I felt a surge of newly found emotions within me. As my own personality adapted to a more delicate, fragile self, my tattoos became physical representations of my feelings. They now had "meaning". Today, as a single mother, I am markedly more aware of the fact that parenting, just as life, requires a balance between the seriousness of those previously felt emotions and the light-heartedness to prevent them from becoming overwhelming. I am fragmentally covered in tattoos that are associated with strong emotions; but also tattoos that have absolutely no greater meaning behind them. Some are just "fun" while others are pure works of art. I have rapper llama (corny shades and dollar chain to match) on my body but also a stop watch with my daughter's birth time. A stunning neotraditional Japanese tattoo runs down my right thigh, while a cartoon smoking dinosaur is propped on my shoulder blade (cigar… of course).
View this post on Instagram
While it is beautiful to have a memory displayed on your skin, it is beyond beautiful to sit down with a tattoo artist, and together create a work of art that was once just a vision in your mind. Tattooing is referred to body art for the very reason that it allows for the expansion of creativity and the journey that leads up to the realisation of that creativity. Even beyond the ideas of memories and creativity, it is your prerogative to get a tattoo of a random object that makes absolutely no sense to anyone, or even to yourself.
Psychologically, human beings are said to be born as a tabula rasa, a blank mind that fills up with content and knowledge based on our experiences. If the same concept is applied in a physical sense, our bodies are blank canvasses, and how we decorate them should be the unique way in which we perceive the world, and moreover in this case, the subjective way in which we perceive art.